Buon Natale, Part I
I've always had a mild obsession with Italy, ever since I was a freshman in college and dreamed of studying abroad there. My plan was derailed when I transferred to UC Santa Barbara, a college town nestled against the Pacific coastline. This became my college abroad experience – a completely different world from my rural Pennsylvania hometown both geographically and ideologically. By the time I made my first sojourn to Europe, as a senior in college, I immediately understood what all the fuss was about but it was too late to squeeze in a semester abroad. It's remained one of my biggest regrets.
I was bit by the travel bug after that month gallivanting across Western Europe and twelve years later the desire to hop on a flight the second I have a break from work has not subsided. I keep thinking I'll grow out of it, but alas, here I sit in a coffee bar in Bologna, Italy, sipping a cappuccino with only my laptop and strangers speaking in Italian for company.
A few short months ago after a brutal week of work I looked up flights departing LAX to various international cities. There it was – a direct flight to Rome on Norwegian Air for $199. Every evening for a week I looked up this flight just to make sure it wasn't a fabrication of my imagination. By day seven, after a night out with friends that included alcohol, I booked it. If something came up, I told myself I'd cut my losses and forgo the $199. Nothing did come up. I finished out the project, said my goodbyes to friends and family and boarded the plane, alone. I've been in Italy for close to two weeks and I still don't have a return ticket. There have been moments of loneliness on this trip that lead me to believe I'm an insane person, but they tend to be followed by moments of clarity which serve to reassure me that I made the right choice to come here. Like last Friday.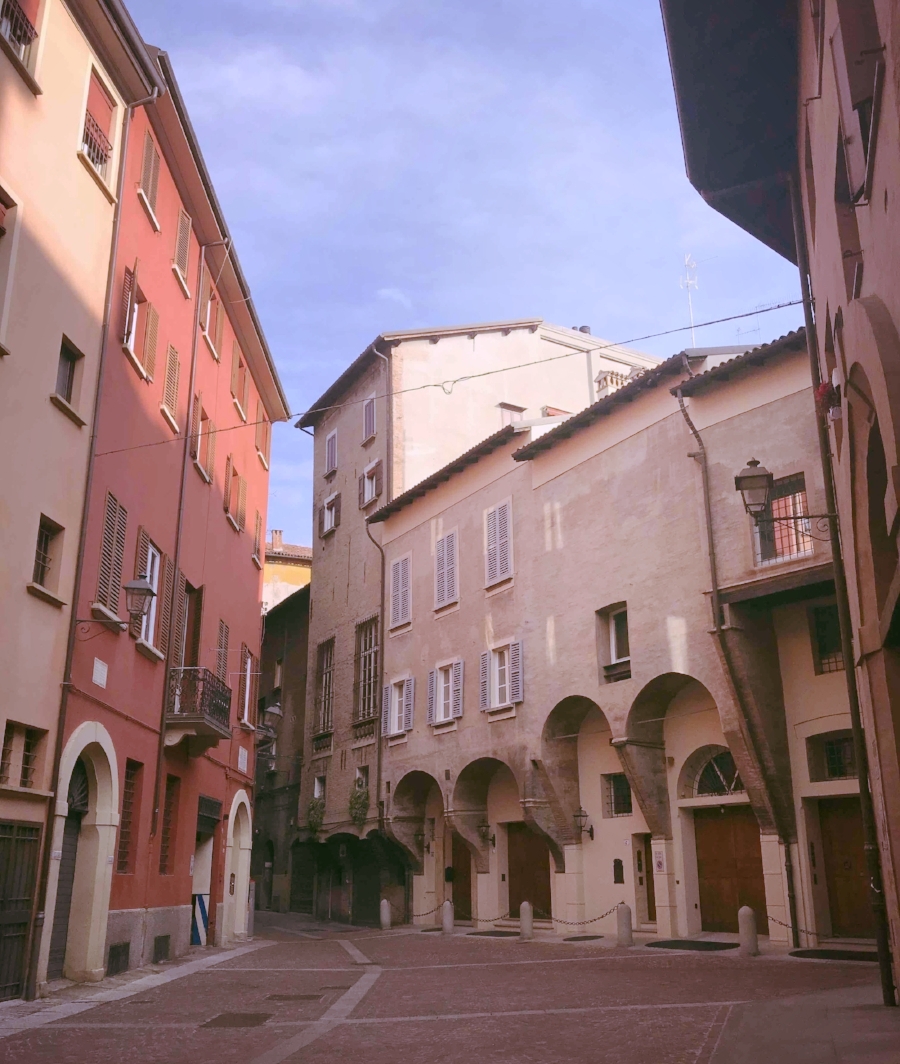 It was my third day in Bologna, a city in Northern Italy I decided to visit on a whim.
It was my third day in Bologna, a city I decided to visit on a whim after my Orvieto Airbnb host recommended it as a hub for Italy's northern cities. She described it as a glimpse of the real Italy: an architectural wonder full of some of Italy's best food, a rich medieval history, and few tourists. That was all I needed to hear; I booked my train ticket that night. Upon my arrival to Bologna, my new Airbnb host and neighbor provided me with a local guidebook in which she'd marked her favorite places. It's served as my Bologna bible and led me to the most charming and delectable restaurants off the beaten path, hidden pastry shops, and a charming Italian perfumery shop tucked away on a quiet street.
written by my Airbnb neighbor's friends.
On a rainy night, I decided I needed to visit at least one location in the book so I chose the perfumery. I can't think of anything I needed less but wanted more then authentic Italian perfume. I walked in and immediately locked eyes with a tall, dapper, very attractive Italian man. "Buonasera," the workers greeted me in unison. All words and thoughts vanished from my brain. Ahem, pull it together woman. "Parla Inglesse?" I asked as my eyes scanned the clusters of staffers behind the counter. Mr. Dapper leapt up and responded enthusiastically, "yes, I do!" FABULOUS. I'm so happy I washed my hair today.
He started to take me on a journey of his favorite scents that intertwined Roman History with ancient tales of love to provide context for what inspired a specific scent. Each story was told in full before I was allowed to smell the corresponding perfume.
Raphael's forbidden love affair with Margarita, the baker's daughter, was the story that stuck with me and I watched in awe as his eyes lit up when narrating the details of their romantic tale. This was no sales pitch. He spoke with genuine passion, making it clear that perfumery was a form of art to him. Who is this man and where did he come from??
While staring intensely at his beautiful eyes, hair, suit, arms, everything and attempting to absorb his words I noticed he was wearing a gold ring on his right finger. Is that the finger they wear wedding bands on in Europe? I couldn't recall, so I just assumed he was married. I actually breathed a sigh of relief as I caught a glimpse of myself in the mirror and realized the randomness that was today's outfit – soggy sneakers, baggy Levi's, two coats layered over a mismatched sweater, a knit hat, no makeup, and watery eyes from the rain. I looked like a stoned lesbian.
We continued on the journey of stories and scents for over an hour, in our own little world amidst the shoppers and staff. Because I assumed he was married I didn't attempt to be charming or sexy – I was simply milking the moment after spending a week wandering the streets alone and drooling over every well-dressed, perfectly coiffed Italian man I passed. He insisted we take a "nose break" before I made my final decisions by stepping outside in the fresh air for a few minutes. We stood under the Christmas lights as rain drops fell just beyond the porticoes. It was all so god damn romantic.
I answered his questions about what I do for a living in California and he told me about his father's perfume business. I knew he wasn't bullshitting me with his vast knowledge of perfume as a straight man. I ended up spending a ruinous amount of euros on two bottles of perfume, totally unnecessary but unequivocally worth it to tie a bow around my serendipitous encounter. I'm such a sucker for an accent.
As the shop door started to close behind me, Mr. name-that-sounds-like-a-pasta asked me how long I would be in Bologna for and quickly followed it up with an invitation to grab a glass of wine. So is it not a wedding ring? And do I not look like a lesbian who got lost on her way to the vape store? I was so confused but I was in no place to resist more human interaction with this dangerously charming man. He wrote down his Instagram account on the back of a perfume card, because I guess that's how millennials exchange info? and suggested I send him a message. I waited until I was seated at an osteria with a fresh plate of pasta in front of me and then I stalked the shit out of him on Instagram. One photo after the next revealed a handsome, consistently well-dressed, well-traveled single man. One deep breath, two sips of Italian wine, and….. message sent. Thumb bruised from force applied to hit 'send.'
After five minutes of polite exchange via direct message he asked if I wanted to meet tonight. All the feels in all the right places, mostly my vagina, as I responded with "sure, just need to go home to drop off my perfume" and also change out of this horrendous outfit, wash my face, brush my teeth, put on makeup for the first time on this trip, and pretend that I didn't just do all of those things in the time that I last saw him.
Walking to meet him in the beautiful square of Piazza Maggiore in the heart of Bologna I could hardly believe this was happening. Only a few short hours ago I walked along the same path in the rain destined for the perfumery as my mind swelled with thoughts of trying to find comfort in my solitude. Suddenly I felt like I was headed for a date and I did my best to quell the familiar anxiety. It's just a glass of wine… with your new Italian lover… agh don't jinx it. Agh stop overthinking everything!
He was standing at the end of a cobblestone street with his perfect hair and perfect watch and perfect winter coat and perfect hat and there were those eyes again, staring intensely into mine. He led me into a cozy wine bar that I had passed a dozen times but never noticed. It was filled to the brim with locals and there was one corner table open for us. Over all of the Italians yelling at each other, which he admitted was one of their few flaws, we discussed our respective jobs, our countries' political strife, and fondness of travel. His English was the best I've heard since arriving in Bologna but the accent was prominent enough to tantalize me. After two glasses, he started to walk me home, politely ignoring the fact that we weren't ready to end the evening. We passed a handful of young university students walking toward what we could only assume was a bar open late. "It's still pretty early," I lied, "do you feel like grabbing one more drink?" "Yes, let's! I'm not tired yet." Good.
Two Italian beers at an Irish pub later, I learned he was from a region on the east coast of Italy called Le Marche and he travels all over the world working in cities for only a few days at a time. An international perfume connoisseur – he sounded like a character from a Disney movie. Who knew this was an actual job? Thanks to the alcohol we both loosened up and body language signals were flying all over the place. An arm graze here, knees touching there, and eye fucking like I've never experienced before. Now I was ready to be walked home.
As I slipped in the 18th century key that looked like an artifact from the museums I've been visiting I asked, "do you want to come–" "Yes," he interjected before I could determine what the rest of that sentence was going to be. We climbed the four flights of centuries-old stairs that led to my charming Airbnb apartment and approximately two seconds after the door slammed shut he kissed me. This is the part of the story where you'd expect it to play out like that scene from Under the Tuscan Sun when Diane Lane finally meets that very hot Italian guy, Marcello. But I'm here to tell you that's not real life! Real life first time hookups are a mixed bag of hot kissing, awkward kissing, biting, flinging, body shifting, uncomfortable condom talks, and penises that go limp.
We climbed the centuries-old stairs that led to my charming Airbnb apartment
and approximately two seconds after the door slammed shut he kissed me.
I'm so sad to report that this hookup did not live up to the sexual tension we had built up throughout the evening. The kissing was fine, but from there he tried, and failed, and tried again, to stay hard. I could only attribute it to the drinks because how can this perfect Italian man and his perfect uncircumcised penis not be perfectly hard whenever it wants to be?
Being the true gentleman that I believed he was and perhaps channeling the amorous Raphael he made sure I was fully satisfied before retiring to the pillow. At least his tongue was able to do what it was supposed to. We tried again in the morning, hoping that he'd slept off whatever was keeping the penis from sustaining an erection longer than five minutes. Much to my disappointment and disbelief, the same problem followed us into the new day. This guy is likely in his twenties, incredibly charming, and clearly knows how to pick up women. What could explain this limp Italian noodle situation? We were at a loss; the 'we' here being both my clitoris and my brain.
After more hot and heavy making out to mask what wasn't taking place down below, we said our goodbyes and he scurried off to work at the perfume store. Watching him get dressed was almost as enjoyable as disrobing him. Did I just meet my new boyfriend? Very doubtful, but the combination of that accent, stimulating conversation, and the short-lived sex was enough to keep me intrigued for at least one more day.